SURF SCHOOL
Our instructors individually advise you in the water on the North Beach of Bisscarrosse. The group of 8 people maximum last 1h30. Children under 9 years old are only 5 per group, and the lesson lasts 1h.
For the youngest, an introduction in the swimming pool, facing the waves, will give them confidence to discover sliding sensations.
All the lessons are adapted to your level, from beginners to advanced levels according to the conditions (tide, wave size, current etc.)
SCHOOL LABELIZED BY FRENCH SURFING FEDERATION
SURF SCHOOL LOCATED ON THE BEACH
QUALIFIED AND EXPERIENCED INSTRUCTORS.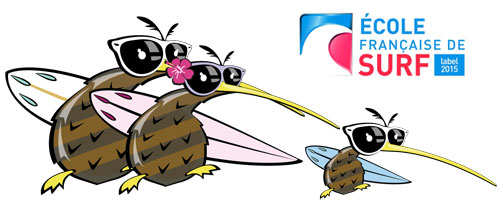 Surf school located on the beach.

Qualified and experienced instructors.

Specialized in non business lessons (groups or individuals).

Large choice of renting equipment.

Surf lesson of 1h30 for adults.

Surf lesson of 1h for children under 9 y.o (after 5yo)
PRICES
ÉCOLE DE SURF SITUÉE DIRECTEMENT SUR LA PLAGE DE BISCARROSSE.
MONITEURS DIPLÔMÉS D'ÉTAT ET QUALIFIÉS.
INITIATION, ADVANCED
Surf Adults


From 9 y.o

X1 1:30 lesson
40 €
X5 1:30 lessons
37 € the course


WITH A PACKAGE AT 185 €

X10 1h30 lessons
35 € the course


WITH A PACKAGE AT 350 €

Mini Surf


From 5 to 8 y.o

X1 1h LESSON
30 €
X5 1h lessons
29 € the course

WITH A PACKAGE AT 145 €

X10 1h lessons
28 € the course

WITH A PACKAGE AT 280 €

Stand-up paddle
1h Private lesson
100 €
1h Group Lesson
50 €